Hey Mommy's blog readers! It's Peachy! Did you know that today is my sister's 18th birthday? Mommy said I could take over the blog today to wish my most favorite sister a happy birthday! Has mommy ever told you the story of how she got my sister? Well, she wrote an essay about it several years ago and wanted me to share it with you! She updated it with Ollie's new age!  At the time this posts Ollie should be waking Daddy up so she can have her breakfast chicken. Happy birthday big sister! Have a great day!
I have never really been a dog person. I like dogs, but there's nothing like a cat curling up with you and putting you to sleep.
Ollie is  eighteen years old TODAY and loves to cuddle up with me. She'll put you to sleep when she does though. I got her for Christmas in 1999. She was still a very small kitten. So small she that she fit in my hand.
I was a sophomore in high school that year and I wanted a new kitten so bad for Christmas. My parents kept telling me that we were not getting another cat. Little did I know that they had other plans. On October 13, 1999 my Ollie Belle was born. My parents has already been looking for another cat since my previous cat had ran away. They found her at a local shelter. Her mother had recently passed away after an incident with some young boys taunting and abusing her. The shelter helped her deliver the kittens and after she took her last breath they took over in nursing the little babies. My parents found out about this shelter and went to look. While they were there they fell in love with this tiny kitten with leopard spots. I don't blame them because I fell in love with her the minute I saw her. They bought her that day, but she wasn't ready to go home with them. They told the shelter that she was a Christmas gift and they said they could keep her there until Christmas Eve.
During the day of Christmas Eve my dad went to get Ollie from the shelter. He took her to my aunt's house to hide her from me. We were going to my aunt's house for Christmas Eve dinner so they had to get her out of there somehow. My mo called my aunt and told her to get the cat ready because my dad was on his way to get her. He leaves about fifteen minutes before my mom and I leave. He says he's going to get ice from the church which is just down the street from my aunt's house. My mom and I get there before he does and I question him when he gets there. He says the church was out of ice and he had to go buy some. I somehow believed that. Maybe it was tenth grade mind or the fact that I really did believe him.
We had our family Christmas Eve dinner and went to church for Christmas Eve service. After church we made our traditional stop to carol my grandparents. This isn't your typical sing O Holy Night all pretty caroling. We would sing the whole Rudolph song as loud and obnoxiously as we could complete with chorus line. After caroling we go home and I go to bed while my parents give Santa the instructions on the Christmas morning activities. I usually would sleep until around seven AM as a child on Christmas morning. That year however I woke up at five because I heard a cat meowing. My parents told me I was dreaming and to go back to bed. After the third time of this they decided it was time to get up. I went back to my room so they could get ready and take the dog out. When everything was ready I came out of my room and my mom was sitting in her chair with the tiniest kitten in her arms. I was beyond excited! I didn't even care what else I got that year! Ollie is still my most favorite Christmas gift!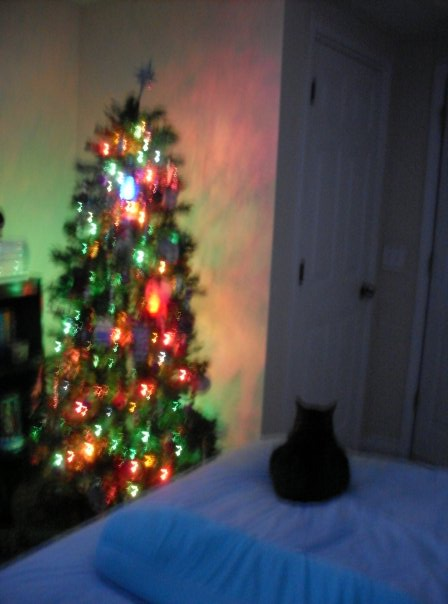 My Olive Belle will always be my kitten even though she no longer fits in my hand. I love my Belle with all my heart and wouldn't trade that Christmas for anything.
Happy birthday Olivey! Mommy and Daddy love you!
Happy birthday big sister! I love you!
Save
Save
Save
Save
Save