This post may sound a bit strange, but do your dishcloths ever get a weird smell? I have been trying to figure out how to get that smell out of them. Regular washing just wasn't cutting it. So I went to Pinterest to find out how I should be cleaning dishcloths! There were so many ways to wash your dishcloths, but I found this way to be the easiest!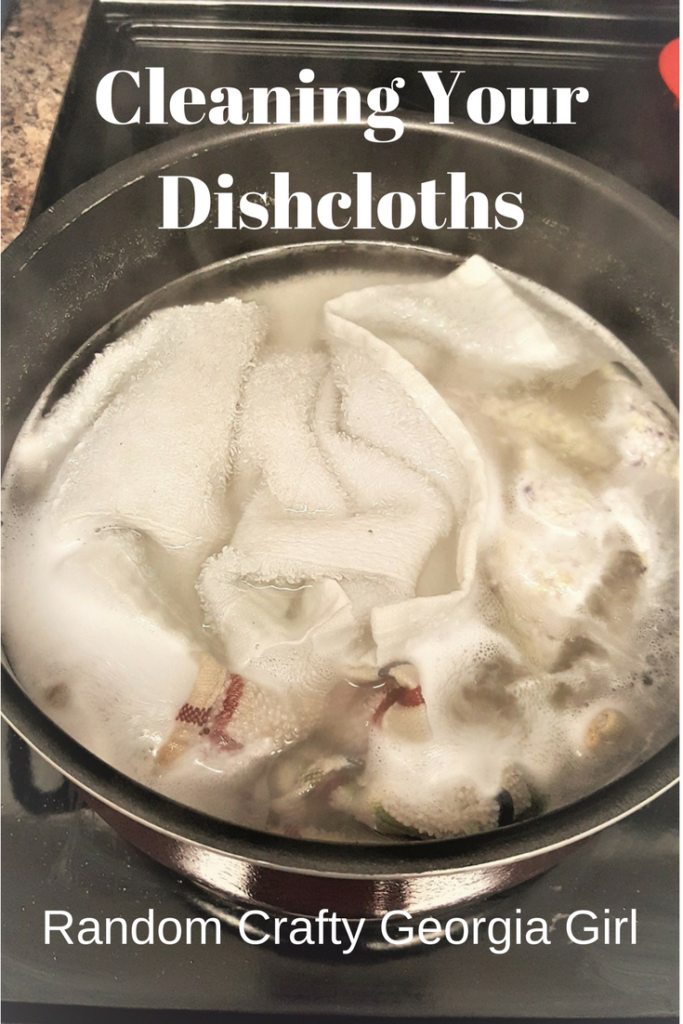 My dishcloths had this weird smell after being used so many times. It was starting to give my kitchen a gross smell! It wasn't pleasant! I couldn't figure out how to clean them and it was driving me crazy! Washing them in the washer with regular laundry just wasn't working. I tried spraying them with vinegar before washing them. That didn't work either. They still smelled.
Well, after I did a Pinterest search, I found that the easiest way to cleaning dishcloths is to boil them! WHAT??? As crazy as that sounds, it really worked!
Here's how to boil your dishcloths:
Fill a large pot with water about 1/2 to 1/4 full.
Bring to a slow boil and add the dishcloths using tongs.
Add a 1/4 cup of baking soda to the water and stir.
Boil for 20 minutes. Watch it closely so that it doesn't boil over. It might get frothy because of the baking soda. I turned the stove down to medium heat at this point and stirred the dishcloths every few minutes to avoid boil overs. I also put a lid on the pot.
After the 20 minutes take the dishcloths out of the pot with the tongs and put straight into the washer. Wash them like normal.
My dishcloths came out smelling fresh and new! I need to do this a couple more times since I have multiple dishcloths that still have that weird smell, but it is so easy!
Would you like to see my posts as they are posted? Sign up for my email list in my right side bar or in my newsletter tab!
Do you follow me on Facebook, Twitter, Pinterest, or Instagram? Copy and paste the links into your broswer and you can keep up on all the random crafty fun! Be sure to use the hashtag #randomcraftylife if you'd like to be featured on the Random Crafty Georgia Girl Instagram! I love seeing what you are up to!
http://randomcraftygagrl.com
Facebook: https://www.facebook.com/RandomCraftyGeorgiaGirl
Twitter: https://twitter.com/RndmCrftyGAGrl
Pinterest: https://www.pinterest.com/RndmCrftyGAGrl/
Instagram: http://www.instagram.com/rndmcrftygagrl
Save
Save
Save