You never want to say goodbye to someone you love because you don't want them to leave your life forever, but it happened to my family on Wednesday, October 27th. My grandma left this world and went on to be with her Lord! We celebrated her life on October 31st. Instead of writing a post about my grandmother, I decided to write her a thank you note for all she did for me!
Dear Grandma,
Thank you so much for being in my life! You taught me so much in my 33 years that I will never forget!
You taught me that hard work pays off. You delivered the Southern Illinoisan newspaper for seventeen years. You were up at 2:45 AM every morning to get the papers ready for delivery! Your hard work was noted a few times by the Southern Illinoisan and they made you carrier of the year several times.
One time when you were delivering the papers, you got out of your truck to deliver to a few houses. You left the truck door open and a big yellow dog jumped in the driver seat of your truck and wouldn't move. I don't remember how you got the dog out of your truck, but this was just one of the funny stories from those seventeen years.
Thank you for teaching me how to help others. You worked tirelessly at the community pantry, delivering Meals on Wheels, working with Vacation Bible School, church dinners, and so much more. You took me on a lot of serving trips and it really made me think about how there are some people that may not be as fortunate as others. I never thought of this as I was a child, but thank you for showing me that some people may need that extra help sometimes and that someone may not be able to get out to do the every day things.
We could never take my outgrown clothes to the pantry because when you would sort the clothes you would find something you thought I would like and it was something that I had outgrown! We started donating to Goodwill instead just so things wouldn't come back to us!
Thank you for teaching me patience. I know that I tried your patience sometimes when I was little, but you never raised your voice to me. You always spoke in a soft tone and gave me tat look! I know I wasn't the most well behaved child, but what kid really is perfectly behaved? Thank you for always having a patient heart with me!
I don't know if this is a story about patience, but it is a random funny story. Before I was in school, you would baby sit me during the day while Momma and Daddy were at work. After lunch, we would go take a nap. Well, YOU would take a nap. When you were asleep, I would sneak out and go watch tv with Poppy! When your nap time was nearing an end he would go tell me to climb back in the bed. Haha! You didn't know this until until around twenty years later!
Thank you for doughnuts on Friday mornings! That was one of the best things of my childhood and I'm going to take our children out for doughnuts every Friday morning! Even when I was able to get myself up there was still doughnut Fridays! At that point Friday morning doughnut runs had changed a bit. You went to get them and put them in our mailbox. I'll always get a dozen doughnut holes just for you!
So as you can see you taught me so much in my life. Even if I felt like I was the grand-daughter you took for granted, the one that was always there; I knew that you really loved and cared for me! I was the one that sent  cards and gifts to let you know I was thinking of you. I was the one that called on your birthday! Towards the end you may not have remembered me, but I know you do now! You're  in Heaven smiling down on me as you officially passes the cookie baton to me!
Thank you Grandma! I love you!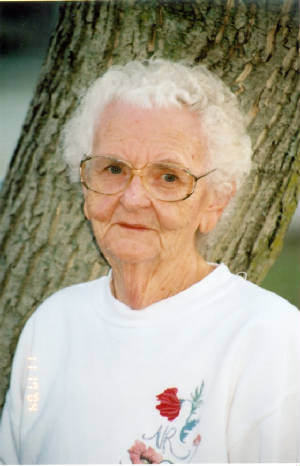 Gae Edith Pedigo, 89, of Carterville, passed away on Wednesday, October 28, 2015, at Heartland Regional Medical Center in Marion, surrounded by her family. Visitation will be held from 1:00 to 3:00 p.m., Saturday, October 31, 2015, at Crainville Baptist Church. Graveside services will follow at 3:00 p.m. in Hillcrest Cemetery in Carterville, with Dwayne Fields and the Rev. Chuck Epperly officiating. Riggin-Pillatsch & Burke Funeral Home in Carterville is in charge of arrangements. Gae's request was no flowers but instead make contributions to the Children's Department at Crainville Baptist Church. Envelopes will be available at the church. Gae was born on April 17, 1926, in Gorham, to Charles Carrell "C.C." and Edith (Mifflin) Sickler. She married Paul Ray Pedigo on December 29, 1946, in Pinckneyville. He preceded her in death on August 7, 2005. She is survived by her daughters and sons-in-law, Ginny Fitzgerald of Carbondale, Judy Pedigo and her husband Doug Young of Dongola, Mary Pedigo of Hurst, Kay and Frank Hutchison of Carterville, and Jo Pedigo of Carterville ; son and daughter-in-law, Gary and Paula Pedigo of Salem, Ore.; sister, Ruby Dallas of Murphysboro; eight grandchildren and their spouses, Angela Fitzgerald, Vina and Anton Castelli, Dawn Schifferdecker, Cate and Nathan Shadder, Laura Duddy, Mary Duddy, Sarah Duddy, and Alex Duddy; 15 great grandchildren and one on the way; one great-great grandchild on the way; special friends, Karla and John McCamish, Nancy Riggin, and Twyla Stennett. Gae was preceded in death by her parents; husband; granddaughter, Brandy; and sister, June Williams. Gae was a homemaker, who enjoyed quilting and baking cookies. She was a fifty year member of Crainville Baptist Church. Special thanks to the staff at Parkway Manor in Marion.