Baking has always been something that I have loved to do. Over the years, I have made multitudes of cookies, cakes and other items. However, there's just something about making a family recipe that gives you comfort. My grandma has been baking for as long as I can remember! She's famous for just about anything she bakes. (Except chocolate chip cookies! More like chocolate chip rocks! haha!)
One of my favorites has always been Grandma's banana bread! A few years ago around Christmas I called my mom to ask her for the recipe. I wanted to send it to Grandma as her Christmas gift. My mom thought that was a wonderful idea so she managed to get Grandmas recipe for me. It was quite an accomplishment. She said she had to make like a ninja borrowing her recipe books! Haha! I can see my mom sneaking around getting the recipe!

Grandma's Banana Bread
Print recipe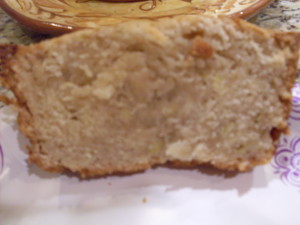 Ingredients
1 1/4 cup oil
2 cups sugar
3 cups flour
2 teaspoons vanilla
1 cup coconut (optional)
3 Large eggs
1 teaspoon salt
2 cups banana (mashed)
1 1/2 heaped teaspoon cinnamon (or to taste)
Directions
Step 1
Preheat oven to 350 degrees. Mix all ingredients together.
Step 2
Pour into a loaf pan and bake at 350 degrees until done. Usually about an hour and a half to an hour and forty five minutes.