As I was making dinner tonight I was thinking of a way to make pasta and tuna a little different! As the pasta was cooking I looked in our spice cabinet and thought of a great way to make a regular dinner a little different. It was so easy and Mr. RCGG loved it!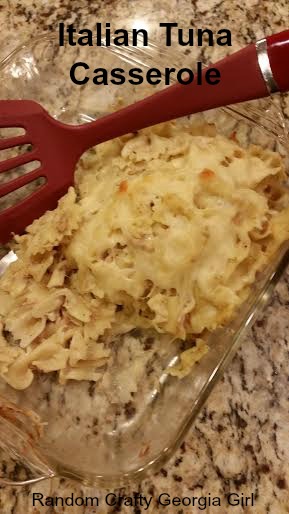 Italian Tuna Casserole
Print recipe
Ingredients
2 tablespoons butter (melted)
1/2 teaspoon oregano
1/2 teaspoon parsley
1 teaspoon salt
1/2 teaspoon pepper
1/2 heaped teaspoon garlic salt
1 jar alfredo sauce
2 cans tuna (drained)
1 box pasta
shredded cheese (enough to cover top of pasta)
Directions
Step 1
Preheat oven to 350 degrees. Cook pasta as per regular instructions
Step 2
Mix seasonings, melted butter, and alfedo sauce in a large bowl.
Step 3
Drain pasta. add drained tuna and mix together.
Step 4
Pour sauce mixture over pasta and stir until well mixed.
Step 5
Pour into a casserole dish and cover with shredded cheese. Bake at 350 degrees for 15-30 minutes.