The coat closet is always an unorganized mess! Everything just gets thrown in there to get it out of the way! We keep our coats, hoodies, vacuum, broom, swiffer, and board games in ours. What can you do to keep it organized? Is there really a way to keep your coat closet organized?I think organizing the coat closet goes back to using baskets for organizing. There's so much that can baskets can be used for. You can use them to put winter hats, mittens or gloves in. You can use them to put small things that you don't know where to put while cleaning up.
You don't need to spend a ton of money on baskets for your coat closet! You can get them from the dollar store, Target, or Wal-Mart.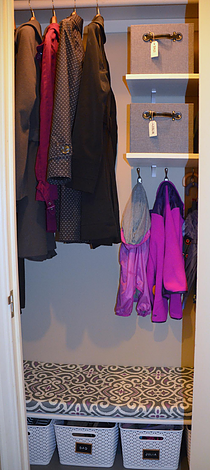 What have you done to keep your coat closet tidy?
I'd love to see it! Show me on the Random Crafty Georgia Girl Facebook page! During the first week of November I'll be sharing a few of your decorating tips and ideas!
Would you like to see my posts as they are posted? Sign up for my email list in my right side bar or in my newsletter tab!