Making your apartment home can seem like such a stressful task! After a move it may seem like all you are doing is unpacking boxes, washing dishes and laundry, and putting things away. What do you do after that? Your apartment is clear of boxes, but it's not you!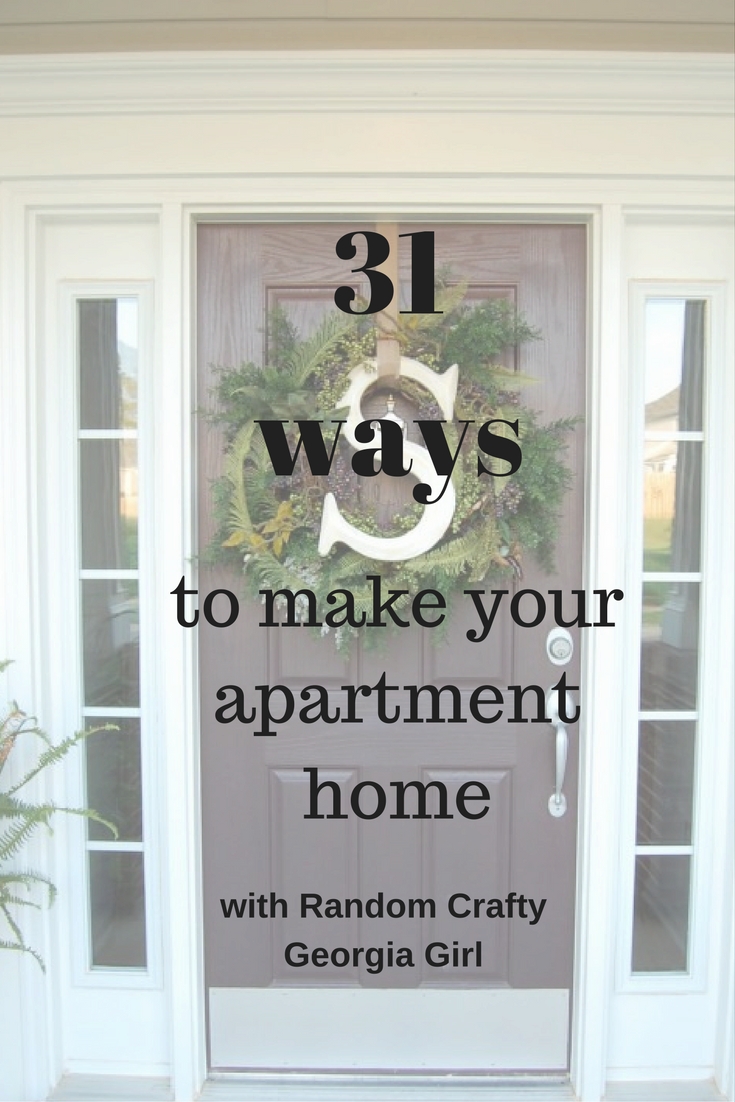 I thought this year for the Write 31 days challenge I would share 31 ways to make your apartment home. While packing for our move to Savannah Georgia, I knew this would be the perfect topic for this year.
I started thinking of ways I wanted to decorate our apartment. During the month of October I'm sharing some ways I have made our apartment home. Every day I will add the links to the daily post! I hope you come back to see how I'm making our apartment home!
Day 1: Welcome Mat
Day 2: Pictures
Day 3: Pops of color
Day 4: Calendar on the fridge
Day 5: Entry space
Day 6: Curtains
Day 7: Flower arrangements
Day 8: Baskets to organize
Day 9: Throw pillows
Day 10: Family items
Day 11: Pantry
Day 12: Rugs
Day 13: Bedroom
Day 14: Menu board
Day 15: Monograms (Initial Frame)
Day 16: Drink station in kitchen
Day 17: Candles and wax burners
Day 18: Bring the outdoors in with plants
Day 19: Holiday decorations
Day 20: Wreaths on your front door
Day 21: Desk
Day 22: Cookbook storage
Day 23: Coat Closet Organization
Day 24:  Vinyl decals
Day 25: Outside space
Day 26: Small kitchen organization
Day 27: Dining room for multi-use purposes
Day 28: Bathroom
Day 29: Master Closet Organization
Day 30: Jewelry Frame
Day 31: Our apartment tour
What have you done to make your apartment or house into a home? Share a picture on the Random Crafty Georgia Girl Facebook page! I'd love to hear about it! Have you signed up for my newsletter? Use the box in my right side bar to sign up! You'll get my posts and special RCGG news delivered right to your inbox!
Save
Save
Save
Save
Save
Save
Save
Save
Save
Save
Save
Save
Save
Save
Save
Save
Save
Save
Save
Save
Save
Save
Save
Save
Save
Save
Save
Save
Save
Save
Save
Save
Save
Save
Save
Save
Save
Save
Save
Save