Today's guest post is from Adrienne who blogs over at La Vita e Bella! She has been one of my best blog friends for awhile! She's sharing a recipe for Sea Salt Fudge!
Hi!
Around the holidays, there is such hustle and bustle with holiday parties, teacher gifts, neighbor gifts and of course having plenty of delicious food around your own home.
Keeping up a social calendar during this busy holiday season can be daunting enough and adding on the layer of multiple hostess gifts can make that even more daunting.
That's why years ago I decided the easiest thing to do was to make one or two things and give it to everyone.
After all food is love.
After scouring Pinterest for ideas, I stumbled upon a recipe for Nutella & Salt Sea Fudge.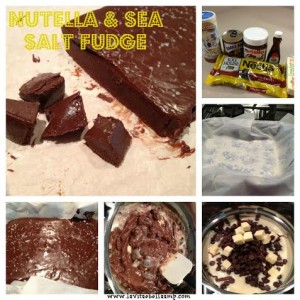 Besides being tasty, it is super easy!
You'll Need:
1 Tablespoon Butter, For Greasing Pan
1 can (14 Oz) Sweetened Condensed Milk
1 teaspoon Vanilla Extract
8 ounces, weight High-quality Bittersweet (60%) Chocolate Chips
1 cup Nutella (chocolate-hazelnut Spread), Room Temperature
3 Tablespoons Unsalted Butter, Room Temperature, Cut Into 1/2-inch Pieces
½ teaspoons (approximately) Sea Salt
Directions:
1. Grease the bottom and sides of an 8- by 8-inch baking pan with butter.
2. Line the pan with parchment paper, leaving a 2-inch overlap on the sides.
3. In a medium glass or stainless steel bowl, combine butter and sweetened condensed milk and add vanilla extract, chocolate chips and Nutella.
4. Stir with a spatula, the mixture should be thick.
5. Create a double-broiler by setting the bowl over a medium pot of simmering water. Stir until the chocolate chips are melted and the mixture is smooth, about 5 to 7 minutes.
6. Scrape the mixture into the prepared pan and spread the top smooth with a spatula.
7. Sprinkle the fudge with sea salt. Refrigerate until the fudge is firm, at least 2 hours.
Wait TWO LONG hours.
Cut the fudge into 3/4-inch squares. Store in the refrigerator in an airtight container or wrapped well in plastic wrap and foil.
Enjoy!
Thanks so much for sharing this recipe with my readers today Adrienne!