Have you ever wondered what makes up the randoms of the RCGG? I thought it would be fun to share a few things you might not know about me!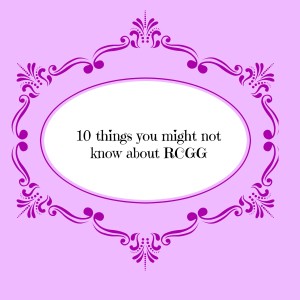 I love Audrey Hepburn, Clark Gable, Humphrey Bogart, James Dean, and Vivien Leigh. My favorite movies are Wizard of Oz, Casablanca, Gone with the Wind, Rebel Without a Cause, and Breakfast at Tiffany's.

I'm 32 years old and I still sleep with a teddy bear and my baby blanket. My teddy bear is a purple bear that Mr. RCGG gave me for Christmas fourteen years ago while we were dating.  I named him Purple Bear because he's a purple bear. Go figure right? Haha!

Mr. RCGG and I will have been together for fifteen years this October. We were married 3 years ago this July. We share an anniversary with Jim Bob and Michelle Duggar.

I am still friends with the ladies from the July 2012 month board on the wedding website The Knot. I planned our wedding with these ladies and now we have a group on Facebook where we share recipes, stories, and just life in general. We have become very close over the past three years and I'm looking forward to seeing their families grow over the years.

I hate going underwater. I was involved in a disaster of a canoe trip as a child where we flipped over. I went underwater and almost drown with the current of the water.

I collect cookbooks, plaster cats, nativities, lions, Wizard of Oz, key chains, ornaments from trips, nail polish, flip flops, books, and Jim Shore figures.

I bought my first pair of Toms shoes last month and I love them. They are so comfortable. I can't wait to buy another pair soon.

Blogging is sometimes stressful. That's why I go without posting for days at a time sometimes. It is a lot of work just to publish one post, but I love it and I will continue to blig even if I don't see a lot of numbers. I don't do it for popularity though. I love writing.

 Someday we will live on a beach. We love Jekyll Island, St. Simon's Island, Savannah, Charleston, Amelia Island, and Hilton Head Island. We don't care where it is just as long as it is closer to an ocean.

After an illness, the first thing I want to eat is frozen burritos. I know that's not exactly healthy, but it is something that I have been doing since I was a little kid.
Bonus:
I love Paula Deen, Rachael Ray, and Pioneer Woman. I think I have learned just as much about cooking from these women as I have from my mom!
I'm an only child. Mr. RCGG's siblings aren't in-laws to me. They are real siblings.
I love baking! My favorite thing to bake is monster cookies. I use my grandma's recipe and it makes a ton of cookies. I also like decorating cakes. That's something that I haven't done in very long time, but want to get back into soon!
I hope you have enjoyed getting to know me a little better! I'm looking forward to reading more about you! =)