Hey  friends! I have a very special guest post for you today! It's time for a cat takeover! So, Peachy is going to give you a recap on her visit from Santa Paws!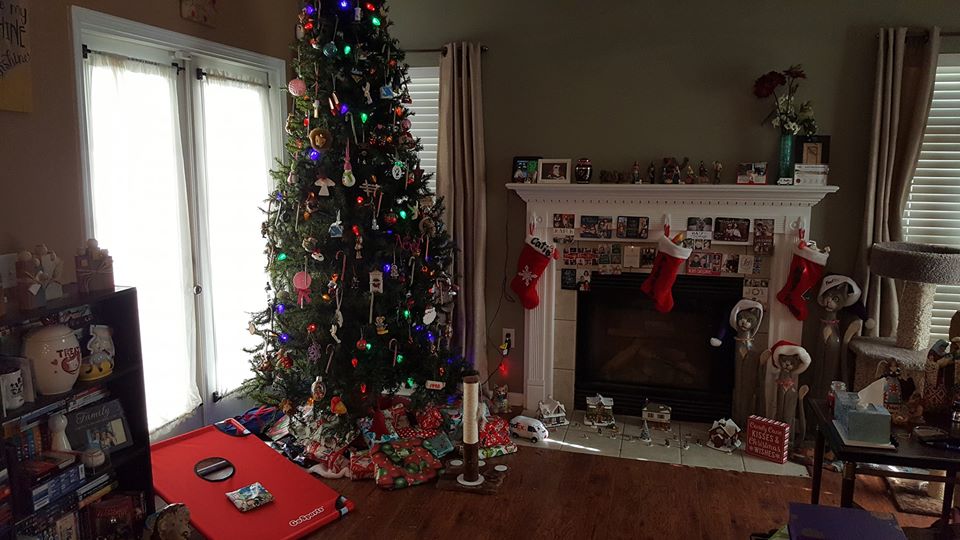 Hi! It's Peachy again! Guess what!!!! Santa Paws came to my house! Mommy and Daddy said they told him I was a good girl and he said he would make a very special trip to see me!
We had such a great Christmas! We started out the day by having breakfast! Mommy made sausage balls the day before and we warmed them up for Christmas morning breakfast! They are so easy to make! You just need sausage, shredded cheese, and a pancake mix. You mix that all together. Using your hands is the easiest way. Then you make them into balls and put them in the oven on 400 degrees for about 10-15 minutes. Mommy usually makes them into balls with a cookie scoop! It is so much easier than rolling them all!
After breakfast we opened our gifts! Santa Paws brought me some new toys and some treats! Mommy and Daddy got me a new scratching post and tunnel! I love them!

Mommy got Daddy a cornhole game! Of course, I had to check it out! You know, to make sure it was going to be fun! My conclusion after several minutes of sitting on it, poking my head through the hole, going through the hole, and rolling around under it is that this cornhole thing is a pretty good game!

Mommy and Daddy each open one gift on Christmas Eve. Daddy opened a gift from Mommy's BFF, Aunt Caryn. When he opened it he told Mommy that she was going to cry! He was right! Mommy cried! This is what it was:

Aunt Caryn took Mommy's Facebook cover photo of Ollie and put it in this magnetic ornament frame. Mommy put it on our fridge. Thank you so much for this gift to Mommy, Aunt Caryn! We love you. Even if I make you sneeze!! Haha! =)
After we opened gifts on Christmas morning Mommy put dinner in the crock pot! We have Italian beef and mashed potatoes for Christmas dinner. Mommy says that she doesn't want to make a huge fuss for meals on Christmas so we have simple things and I don't blame her! Simple gives her more time to spend the day with Daddy and me!
So as you can see we had a great visit from Santa Paws! I can't wait for him to come again! I may have already asked Mommy how many more days until Christmas!!
Mommy, Daddy, and I hope you have a great MEW year! Happy 2019!!!
Thanks so much for your takeover Peachy cat! You have adjusted so well to being an only cat! You are such a good girl and I know your big sister is watching you play, run around, and eating treats!